Antonio de Francisci was born on July 13, 1887 in Palermo, Italy, the capital of Sicily. His father was a marble cutter whom Anthony had assisted as a child. In 1895 he moved to the United States but he wouldn't become a naturalized citizen until 1913.
He attended Cooper Union in New York City where he studied sculpture under James Earle Fraser, Hermon MacNeil, and Adolph A. Weinman. One of de Francisci's first known medals is a plaque honoring his teacher Weinman.
After graduating from Cooper Union de Francisci found employment as a teacher at Columbia University but within a few years he had managed to open his own studio in New York City. De Francisci soon became known as a designer of coins. His design was chosen for the Maine Memorial Commemorative half dollar as well as for the Peace dollar.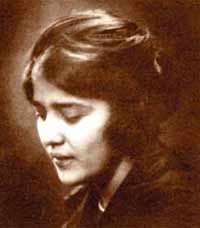 Teresa de Francisci
The latter represented a tremendous victory for de Francisci because he won the design competition against the great sculptors and medalists of his time. But beyond the mere prestige, de Francisci had chosen his wife Teresa as a model. As a consequence of his victory an image of the love of his life would henceforth grace the silver coins of their adopted home country.
While de Francisci never designed other coins afterwards his designs appeared on several medals. Shortly before his death, he designed the 1964/1965 World's Fair in New York City medal. He died on October 20th, 1964 in New York City, the city he almost never left after moving there. His wife Teresa survived him for 26 years to die at the ripe old age of 92.
Sourced from Wikipedia and the sites listed under Resources.