Medals relating to the Westinghouse Corp.
As always, you can click or tap medals to see the reverse. Some medals might have multiple variants that differ in material, size, or other details. If multiple variants are available you can drag or slide medals sideways to display them.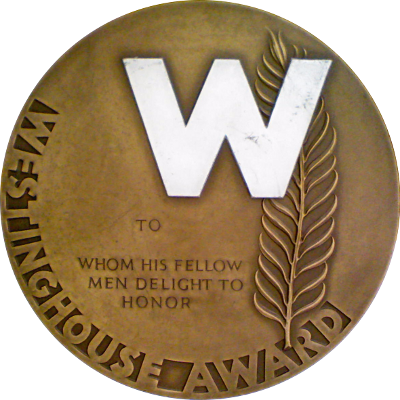 The obverse bears art deco city scape with factories and skyscrapers surrounding a giant generator building; clouds and sun rays above; house and train engines below. In exergue, * ORDER OF * / MERIT
The reverse bears large silver letter W over palm frond. Around, WESTINGHOUSE AWARD; in lower half, TO / (blank) / WHOM HIS FELLOW / MEN DELIGHT TO / HONOR
The Westinghouse Order of Merit was awarded by Westinghouse Electric Corporation as its highest form of employee recognition. Both management and technical employees were eligible to receive the award.
The medallion has a diameter of 101mm. It was struck in bronze by the Medallic Art Company of New York. The mintage is not reported.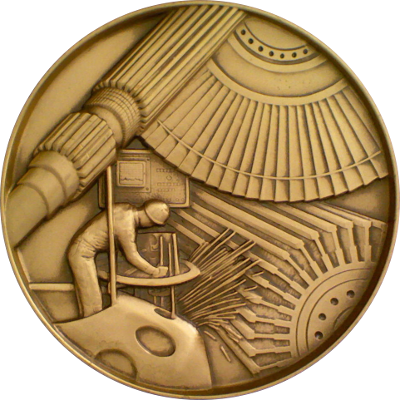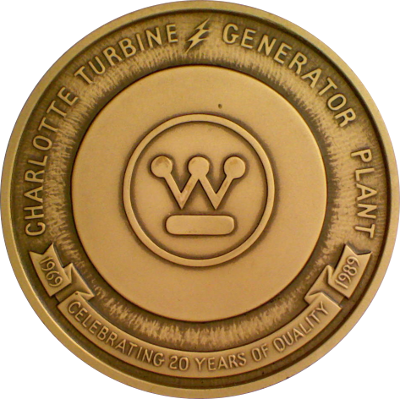 The obverse bears engineer amidst turbine wheels and gears.
The reverse bears Westinghouse logo in center. Around, CHARLOTTE TURBINE / GENERATOR PLANT / 1969 / CELEBRATING 20 YEARS OF QUALITY / 1989
The edge is marked © 1989 MEDALLIC ART CO.-DANBURY, CT.-BRONZE
I have not been able to find out much about this medal yet. Please contact me if you have information about the artist or the mintage.
The medal measures 76mm (3in) in diameter and was struck in bronze by the Medallic Art Company of Danbury, Connecticut.