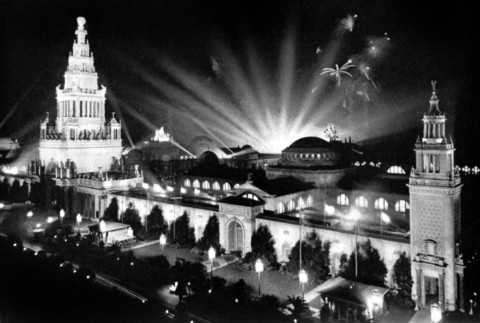 The Panama–Pacific International Exposition was a world's fair held in San Francisco, between February 20 and December 4 in 1915. Its ostensible purpose was to celebrate the completion of the Panama Canal, but it was widely seen in the city as an opportunity to showcase its recovery from the devastating 1906 earthquake. The fair was constructed on a 635 acre (2.6 km2) site in San Francisco, along the northern shore, between the Presidio and Fort Mason, now known as the Marina District.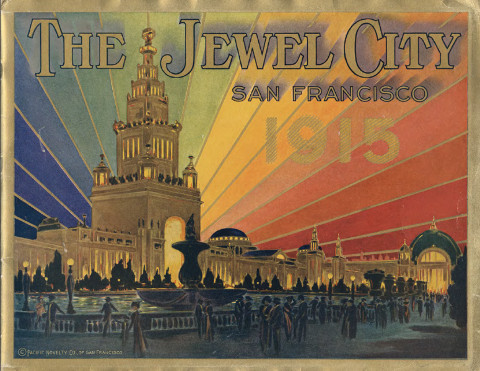 The centerpiece was the Tower of Jewels, which rose to 435 feet and was covered with over 100,000 cut glass Novagems. The 3⁄4 to 2 inch colored "gems" sparkled in sunlight throughout the day and were illuminated by over 50 powerful electrical searchlights at night.
In front of the Tower, the Fountain of Energy flowed at the center of the South Gardens, flanked by the Palace of Horticulture on the west and the Festival Hall to the east. The arch of the Tower served as the gateway to the Court of the Universe, leading to the Court of the Four Seasons to the west and the Court of Abundance to the east. These courts formed the primary exhibit area for the fair, which included the Food Products Palace, the Education and Social Economy Palace, the Agriculture Palace, the Liberal Arts Palace, the Transportation Palace, the Manufacturers Palace, the Mines and Metallurgy Palace, and the Varied Industries Palace. The Machinery Palace, the largest hall, dominated the east end of the central court.
At the west end of central court group was the Palace of Fine Arts. Further west toward the bay down The Avenue of the Nations were national and states' buildings, displaying customs and products unique to the area represented. At the opposite end of the Fair, near Fort Mason was "The Zone", an avenue of popular amusements and concessions stands.
The Medal of Award was designed by John Flanagan, one of the great medallic sculptors of the day.
Click on the Medals tab to see some of the medals issued for this exposition.