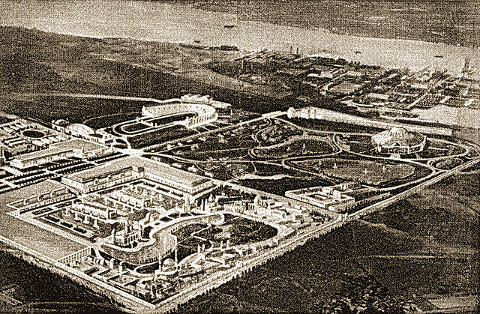 The Sesqui-Centennial International Exposition of 1926 was a world's fair in Philadelphia, Pennsylvania, to celebrate the 150th anniversary of the signing of the United States Declaration of Independence, and the 50th anniversary of the 1876 Centennial Exposition.
The honor of hosting this celebration was awarded to Philadelphia in 1921. Initial grand plans were scaled down tremendously by the time the fair opened. The original director of the exposition, Colonel David C. Collier, resigned in protest over these budget cuts. His replacement, Captain Asher C. Baker, retired due to illness days before the festival opened, leaving things in the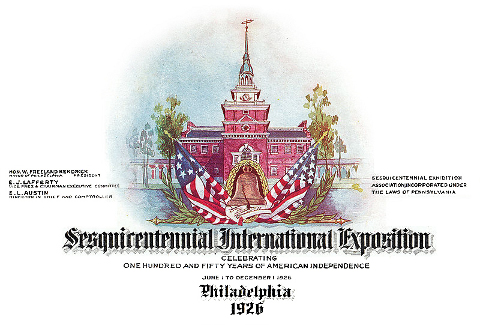 hands of E. L. Austin. Baker died less than two weeks later.
The fair opened on May 31, 1926, and ran through November on grounds bounded by 10th Street, Packer Avenue, 23rd Street, and the U.S. Navy Yard (Terminal Avenue) in South Philadelphia. Originally known as League Island Park, these grounds are now occupied by FDR Park, Marconi Plaza, Packer Park Residential Neighborhood, the three stadiums of Philadelphia's massive South Philadelphia Sports Complex (Wells Fargo Center, Lincoln Financial Field, and Citizens Bank Park), and the Philadelphia Eagles training complex which now occupy that portion of the grounds which from 1933 to 1993 were the site of Philadelphia Naval Hospital (demolished 2001).
The senior draftsman for the design of the exposition buildings was a young Louis Kahn, later a world-renowned architect, then working under City Architect John Molitor. Sculptor Charles Tefft was chosen as the director of sculpture for the fair while noted Philadelphia sculptor and artist Albert Laessle created the fair's Medals of Award.
The fair drew a much smaller crowd than anticipated (about 10 million people). It ended up unable to cover its debts and was placed into receivership in 1927, at which point its assets were sold at auction.
Click on the Medals tab to see some of the medals issued for this exposition.