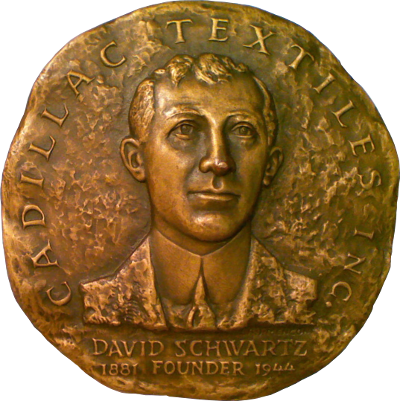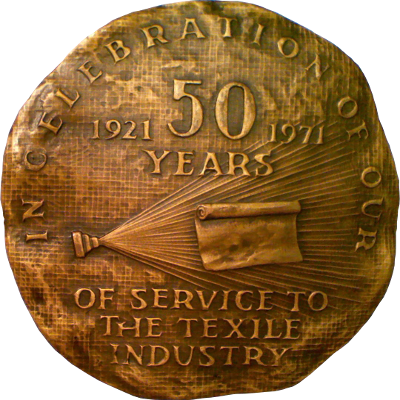 The medal's obverse bears bust of David Schwartz, founder of Cadillac Textiles, Inc. Around, CADILLAC TEXTILES INC.; below truncation, DAVID SCHWARTZ / 1881 - FOUNDER - 1944
The medal's reverse bears a bolt of cloth over textile manufacturing equipment on a woven cloth-textured background. Around, IN CELEBRATION OF OUR; across center, 1921 - 1971 / 50 / YEARS / OF SERVICE TO / THE TEXTILE / INDUSTRY
The edge is marked with MEDALLIC ART CO. NY BRONZE
David Schwartz started his business career in Paterson, New Jersey in the early 1900s as a textile weaver. At that time Paterson was America's leading silk city. Cadillac relocated from Paterson to Pawtucket, Rhode Island in the late 1920s and switched to synthetic fabrics in the 1930s.
This irregularly circular medal measures 70mm in diameter and was struck by the Medallic Art Company of New York.
I have only ever seen this medal once on eBay and bought it for less than $40.