The Gorham Manufacturing Company was one of the world's giants in the fields of silversmithing and sculptural foundry work.
The Gorham Manufacturing Company was founded in 1831 in Providence, Rhode Island, by Jabez Gorham silversmiths of the 19th century. There he learned to make coin-silver flatware (lightweight eating utensils made from lightweight, rolled silver) which formed the mainstay of his business in the early years.
In 1848 Gorham's son John took over as the head of the company. He was determined to grow the company and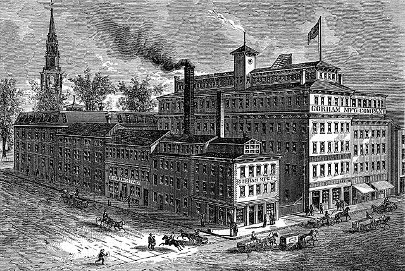 and Henry L. Webster. Gorham had apprenticed with Nehemiah Dodge, one of Providence's most respected traveled to England to purchase the first steam-powered drop press that was used in the United States to produce silver flatware. The increased efficiency allowed him to lower prices and increase production, eventually leading to Gorham's position as one of the largest silver manufactories in the world. Such was Gorham's expertise and dominance in the marketplace that even Tiffany & Co. outsourced all its silverware production to Gorham.
Between the years of 1879 and 1893 Gorham had displays at every International Fair where they won both public accolades and prizes. At the Columbian Exposition alone Gorham won 47 prizes for excellence.
Since 1860 Gorham had tried to expand into other metals as well but customers refused to pay a Gorham premium for flatware produced in baser metals. Yet the expertise gained in these attempts was not totally lost and its bronze foundry operations were becoming very popular with sculptors. By 1890 Gorham had built the world's largest bronze-casting foundry and by 1920 the company employed almost 2,000 workers. Its art foundry produced many sculptures for the great American sculptors of the day. More than 700 Gorham sculptures are listed in the Smithsonian inventory alone.
The Great Depression was not kind to Gorham as production came to a standstill. The company had to lay off many workers but it did its best to keep the artisans employed as long as possible. Gorham initiated an effort to produce hundreds of examples of 19th century hollowware from the original dies. Artisans painstakingly reproduced the samples from the original designs and dies and the pieces created then are now often the only surviving examples of certain patterns.
The end came in 1967 when Textron purchased the Gorham Manufacturing Company. Gorham ceased operating as an independent business and the new owners started reducing the quality of Gorham's traditionally high-end products in an attempt to regain marketshare, an attempt that was ultimately unsuccessful. The former Gorham, now a division, was resold to Dansk International Designs in 1989, to the Brown-Foreman Corporation in 1991, and to Department 56 in 2005.