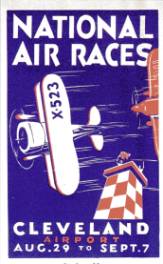 The National Air Races (also known as Pulitzer Trophy Races) were a series of pylon and cross-country races that took place in the United States from 1920 to 1949. The science of aviation, and the speed and reliability of aircraft and engines grew rapidly during this period; the National Air Races were both a proving ground and showcase for this.
In 1920 publisher Ralph Pulitzer sponsored the Pulitzer Trophy Race and the Pulitzer Speed Trophy for military airplanes at Roosevelt Field, Long Island, New York, in an effort to publicize aviation and his newspaper. The races eventually moved to Cleveland and then they were known as the Cleveland National Air Races. They drew the best flyers of the time, including James Doolittle, Wiley Post, Tex Rankin, Frank Hawks, Jimmy Wedell, Roscoe Turner, and others from the pioneer age of aviation.
During World War II the races were on hiatus. After World War II the excitement about Air Races waned because the retired war planes were so much more powerful and standardized than the home-grown racing planes of pre-war times. The organizers realized this and tried to counteract it by introducing a class of small racing planes, but they could never recover the old pre-war popularity.
During their heyday the National Air Races provided buzz, entertainment and a proving ground for future professional plane builders and pilots. They also captivated the imagination of artists who created outstanding posters, medals, trophies and trinkets to accompany the events.
This tab shows medals that relate to the National Air Races exclusively. There are other flight-related pages available.
Please let me know if I missed an air races-related medal that is already on this site but not part of this collection. As always, you can click or tap on the medals to see their reverse side.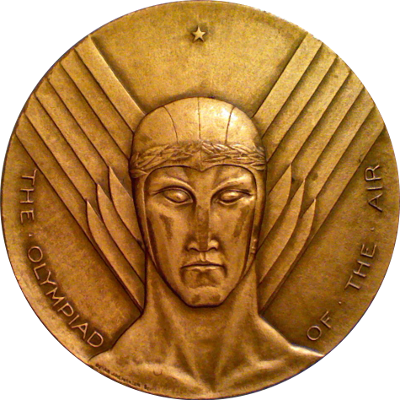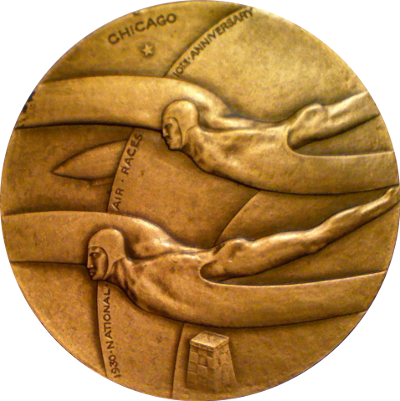 The medal's obverse bears art deco style bust of a pilot in a leather flying helmet with laurel leaf crown, up-turned wings behind pilot, star above. To left and right of pilot, around edge, THE OLYMPIAD - OF THE AIR; signed at lower left, OSKAR J W HANSEN Sc.
The medal's reverse bears relief of two art deco style winged pilot figures in flight above tower. Above, CHICAGO; Along background arc, 1930 NATIONAL - AIR RACES - 10TH ANNIVERSARY
Oskar Hansen (1892-1971) designed this art deco bronze medal to celebrate the 1930 National Air Races that took place in Chicago. It was the 10th anniversary of the races and the first year for The Thompson Trophy. Hansen is best known for his bronze works in connection with The Hoover Dam.
This medal measures 63mm (2.5in) in diameter and was struck by the Medallic Art Company of New York.
All that being said, this is a fairly rare medal that typically trades on eBay between $100 and $300.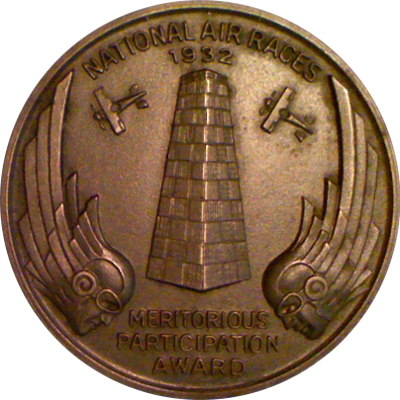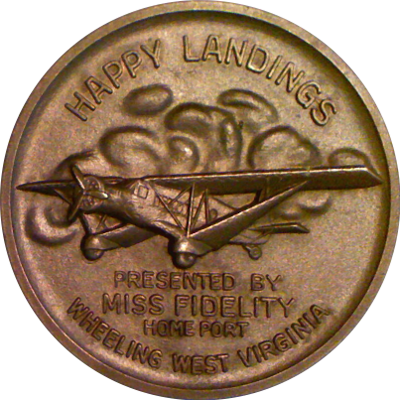 The obverse bears a central pylon flanked by two aircraft and two Art Deco-style winged heads. Above, NATIONAL AIR RACES / 1932; below, MERITORIOUS / PARTICIPATION / AWARD.
The reverse shows a Bellanca P200 plane in front of clouds. Above, HAPPY LANDINGS; below, PRESENTED BY / MISS FIDELITY / HOME PORT / WHEELINGS WEST VIRGINIA.
The Bellanca P200 airbus was built for $45,000 for the Fidelity Investment Company of Wheeling, West Virginia. It was one of nine built by the Bellanca Aircraft Corporation of New Castle, Delaware, and was one of the most advanced and economic commercial airplanes of its day. In 1934 federal regulations prohibited single engine transports on United States airlines, virtually eliminating the airbus' market. In Canada the P200 and its successor, the P300, were used into the 1970's to ferry ore, supplies and the occasional passenger from and to remote northern mining sites.
One of these small medals was awarded to every participant of the 1932 National Air Races held in Cleveland. The winged heads on this medal are reminiscent of Oskar Hansen's better known Olympiad of the Air medal from two years earlier.
The medal measures 36.7mm (1.5in) in diameter and was struck in bronze in an unknown mintage.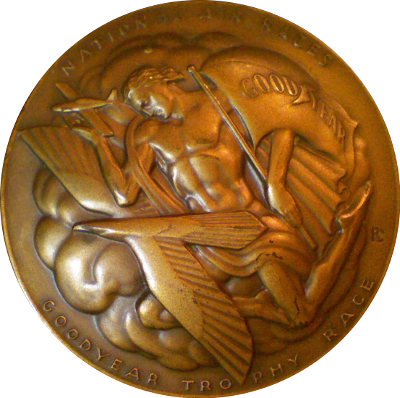 The medal bears a flying eagle and nude man, holding GOODYEAR banner in eft and small plane in right, over swirling clouds. Above, NATIONAL AIR RACES; below, GOODYEAR TROPHY RACE; to right, signed (monogram PRC).
Chambellan did a lot of work for Goodyear. In addition to this trophy medallion, he designed several medals for Goodyear dealers and business partners.
It is not known when Chambellan designed this medal but it was first awarded in 1947. The Goodyear Trophy Race was a newly introduced event at the Cleveland National Air Races in 1947. At the end of the first post-war Cleveland National Air Races, a lot of specators had walked out because the ex-military airplanes were too similar and as a consequence the races were not as exciting to watch as the pre-war competitions that had sported highly individual racing airplanes. The organizers resurrected an old idea for small, low-powered, custom-built "midget" airplanes that could race around a smaller track closer to the spectators. The Goodyear Trophy Race was born.
There is no information about the medal itself that I could locate and I would appreciate any help. My copy is mounted an a 268mm x 200mm (10.5in x 7 7/8in) wooden board with a name plate reading ROBERT S. HOPKINS / RACE PLANE BUILDER / 1947.