This medal was chosen as the fourth issue of the prestigious Society of Medalists series in 1931. The obverse bears a likeness of Charles Lindbergh wearing flight gear, goggles dangling over his chest, with the inscription "CHARLES AUGUSTUS LINDBERGH" and Frederick MacMonnies' monogram FM / 1931 / ©
The reverse bears an allegorical scene together with the inscription "LONE EAGLE."
Lindbergh's non-stop transatlantic flight from Long Island to Paris took place between May 20th and 21st 1927. Not only did he win $25,000 in prize money for the first non-stop flight from New York to Paris, he also captivated the imagination of an entire generation. Upon his arrival at the airfield of Le Bourget, just outside of Paris, a 100,000 strong crowd gave him a hero's welcome. His achievement was commemorated in countless stamps, medals, and commemorative issues of all kinds.
MacMonnies created this medal four years after the flight and late in his career. He tried to convey Lindbergh' spirit and courage on the obverse.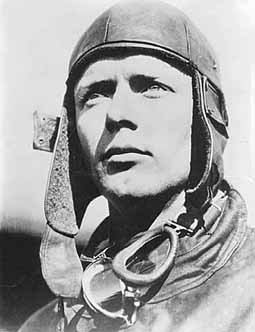 In MacMonnies' own words:
"To attempt to commemorate Lindbergh's mighty achievement within the tiny compass of a three inch medal is preposterous, and if one does not succeed in represeting even a faint suggestion if the sublime courage that faced appaling odds - the fascinating problem is compensation enough. In the head of Lindbergh I have tried to catch something of the inner belief and nobility of vision of the boy, together with the experience of the master airman."
MacMonnies likely based his obverse design on the iconic photo of Lindbergh shown here.
Struck by the Medallic Art Company of New York, this medal measures 73mm in diameter. The reported production quantity is 1,989 in bronze and 250 in silver though there were two additional 32mm-diameter editions in bronze and silver.
References: Marqusee 249